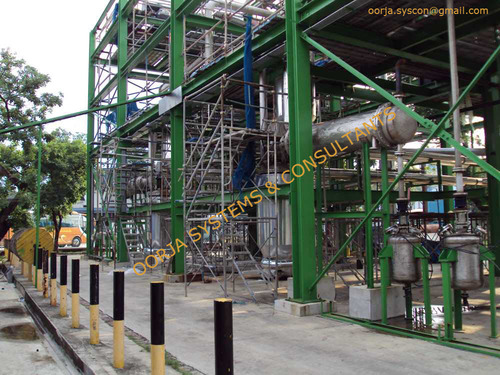 Product Description
Used Oil Recycling Plant
We OORJA SYSTEMS & CONSULTANTS through years of technical experience have developed latest cutting edge process technology which involves recycling waste lube oil using high vacuum distillation through Thin Film Evaporation and further bleaching and deodorising through special polymer and de-ionisation treatment.
The lube oil normally boils at about 450°C - 500°C. However under high vacuum the lube oil boils at 300°C. The lubricating oil fraction is very stable and involatile. To heat the lubricating oil to the temperature required for distillation will actually decompose the oil, so the diesel and lube oil fractionation is carried out under high vacuum to reduce the effective boiling point of these products. The very heavy components of the crude (i.e. tars) will not distill even under a vacuum and remain as bottoms or residue.
The distilled lube oil is further bleached using special polymer treatment technology and de-odourised using de-ionisation technology. The process developed by us is totally free from clay treatment.
The Waste Lube Oil Recycling through High Vacuum Distillation developed by us consists of following stages:
1. Light fuel, diesel and water removal. Low vacuum distillation yields light oil, diesel from the used oil feedstock to run all the burners and boilers.
2. Lubricating oil. The bulk of the feedstock will distill off in the plant to produce a lubricating oil fraction.
3. Residue. The non-distillable part of the feedstock. This contains all the carbon, wear metals, degraded additives and most of the lead and oxidation products. This residue is successfully used as bitumen or converted into lubricating machine grease.
Contact Us
# 5, Parag Bldg, Parijat CHS, Near Saraswat Bank, Swamy Nityanand Marg, Panvel, Panvel, Maharashtra, 410206, India
Phone :+918068093682