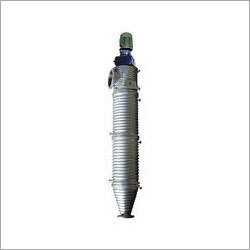 Product Description
Thin Film Evaporators

Thin Film Evaporators, which are also frequently called wiped film evaporators or agitated thin film evaporators have become a generally recognized and accepted solution for difficult and demanding process problems in the areas of distillation, concentration, degassing, drying and reactions.
We OORJA SYSTEMS & CONSULTANTS offer the wide range of different types of Thin Film Evaporators available worldwide, such as:
different types of rotor to suit a wide range of different applications
vertical or horizontal construction
cylindrical or conical design
counter or co-current working principle
Features
Thin Film Evaporators differ in the following main technical features from other evaporator types:
Continuous and trouble-free processing of viscous, fouling and contaminated fluids by high turbulence in the liquid film, which also reduces the required temperature difference across the heating surface;
Gentle product treatment because of the short residence time and the narrow residence time spectrum in the whole equipment;
High evaporation performance because of high surface heat flux;
High evaporation ratio in a single pass;
Minimum losses in case of product change because of the low hold-up.
Operating Window
Our Thin Film Evaporators can be used within the following range:
| | |
| --- | --- |
| Operating parameters | Operating window |
| Feed rate ltrs/h | 20 - 5000 |
| Evaporation rate ltr/h | up to 4000 |
| Heating temperature °C | up to 300 |
| High Vacuum Range - Bar | up to 0.001 |
| Product viscosity at operating temperature mPas | up to 70.000 |
| Residence time min | < 1 |
| Evaporation ratio (concentrate/feed) | up to 1:50 |
| Through put % | 20 - 100 |
Quality Attributes

Compact Structure
Leak Proof Body
Easy & Strong Installation
Cost Effective Prices
User friendly Structure
Hindrance to Adverse Effects Like High Pressure, Abrasion, Corrosion Etc.
Contact Us
# 5, Parag Bldg, Parijat CHS, Near Saraswat Bank, Swamy Nityanand Marg, Panvel, Panvel, Maharashtra, 410206, India
Phone :+918068093682